Dear friends and participants of CFS+
Welcome to TEXAID, Europe's leading textile collecting, sorting, reselling and recycling company.
At TEXAID we believe in the strength of collaboration. This is the reason why we consider initiatives and events like this to be important and valuable. Thank you GFA and the project Team around CFS+ for making this possible!
REGISTER FOR CFS+ HERE FOR FREE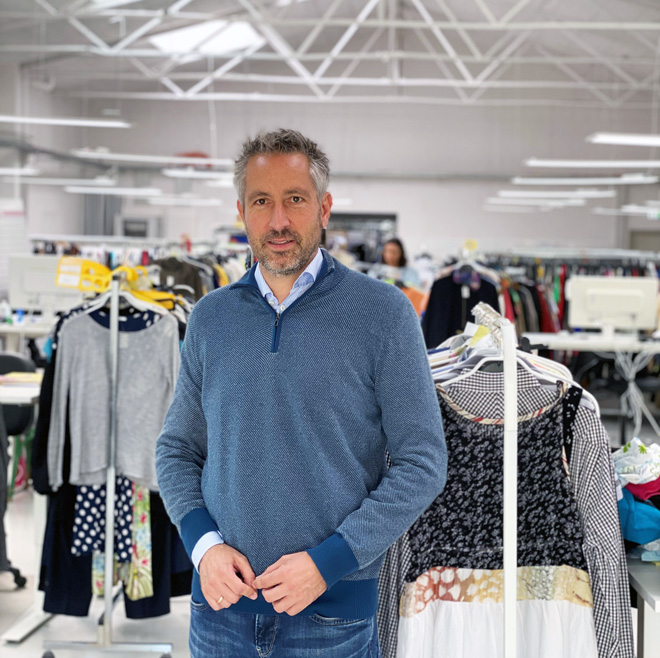 ''We see an urgent need to accelerate CIRCULAR models in the Fashion Industry. As the European Market Leader for providing RETAIL SOLUTIONS and enabling the Fashion Industry becoming more CIRCULAR we cover growing needs for sustainable end-of-use solutions and provide custom-made concepts.''
Martin Böschen, CEO TEXAID Group
Our Solutions
YOUR WORLD-WIDE PARTNER FOR END-OF-LIFE SOLUTIONS AND CUSTOM-MADE CONCEPTS
To find out more about our solutions, visit our Retail Solutions Website or contact us directly via email.
We are also looking forward to engage with you at the Digital Matchmaking.
COLLECTION TOOLS
Our Online & Offline TAKE BACK Systems can be integrated online as well as offline.
OVERSTOCK & RETURNS
Together with you we enable to define and implement the best fitting concept for your brand or company.
SORTING of PRE- and POST-CONSUMER TEXTILES
With our professional sorting infrastructure, we are able to sort according to your individual requirements and use the example of best practice.
RECOMMERCE
Our online & offline reselling channels and connected know-how can be integrated in your channels as well as a White Label solution from A to Z.
SCALED & HIGH VALUE RECYCLING
From cost-efficient downcycling procedures to innovative high value recycling possibilities. With inhouse capacities as well as through our network of specialized partners we find the best fitting solution.
OUR EXPERIENCED SPECIALISTS ARE HERE TO ACCOMPANY YOU ON YOUR SUSTAINABLE JOURNEY